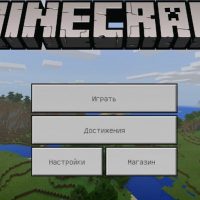 Minecraft PE 1.2.10
Download Minecraft PE 1.2.10
Download
Download Minecraft 1.2.10 full version with working Xbox Live for Android, and get the opportunity to listen to music in the game!
Minecraft 1.2.10 – What's new?
This is the latest version released by the developers at Mojang in a series of Better Together updates. The game has a large number of new settings and features. Players can take advantage of new blocks and items, of which there are enough in these innovations. The parrot and the canyon are also worth mentioning.
Parrot
A new player-neutral creature in Minecraft 1.2.10. It is tamed with the help of seeds, after which it begins to follow the player. A parrot can sit on the shoulder of its owner if he is standing next to him. These birds live mainly in the jungle. Parrots can also mimic the sounds of hostile mobs.
Blocks and items
With Minecraft PE 1.2.10, players have received a considerable number of new blocks and items.
Book with feather
Quite a long-awaited innovation in Minecraft 1.2.10. Allows you to record a large amount of information. You can get such a book at the workbench using a regular book, a pen, and an ink bag. As an exclusive for the mobile version, the ability to view two pages at the same time on one screen was added.
Jukebox and records
Allows you to listen to music directly in the game, playing records in Minecraft 1.2.10. You can build such a player from boards and diamonds. But you won't be able to craft records, so you will have to look for them in various fortresses and dungeons.
It is worth mentioning the need to install a special resource pack for playing music. Parrots love music, so they dance next to the jukebox.
Recipe book and training
Newbies will especially like these innovations. Now they do not need to search the Internet for various information or look for any recipe. Now all this is right in Minecraft Bedrock Edition 1.2.10. You can open the training section in the menu.
Canyon
And the last innovation in Minecraft 1.2.10 is the canyon. This is a fault in the ground a couple of dozen blocks long. Most often, at the very bottom of this location there is water with lava. This area will be very useful at the very beginning of survival.
How can I tame a parrot in Minecraft 1.2.10?

Is it possible to somehow craft records?

No. They can only be found in various structures.

What is a building block for?

It is mainly needed by map builders and developers. With its help, you can speed up construction at times.
download anchor
Minecraft 1.2.10 Download