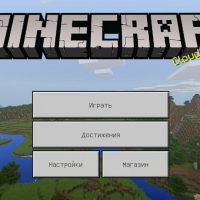 Minecraft PE 1.2.7
Download Minecraft PE 1.2.7
Download
Download Minecraft 1.2.7 full version with working Xbox Live for Android, and hurry up to tame your parrot!
What's new in Minecraft PE 1.2.7?
This version is a continuation of the Better Together Update. This is one of the most anticipated and global updates in the game. The Mojang developers have added many different blocks and items. In addition, a new generation appeared, which is a canyon, as well as a parrot.
Parrot
The only new mob in Minecraft 1.2.7. Has five different colors. You can tame a parrot with seeds. Once tamed, it can be made to sit in one place without moving. Also, the parrot loves to sit on the shoulder of its owner.
However, it immediately descends when the player falls from a height of even one block. Parrots love music, so they dance next to the turntable.
Items
Another no less interesting part of the innovations in Minecraft 1.2.7:
Name of items
Description
Getting
Firework Star
A material that determines the shape, color, and nature of the explosion of the fireworks. Due to a large number of possible explosions, it isn't easy to craft.
Mainly from dyes
Firework
Clicking on any block launches into the sky. After that,

exploding leaves behind particles of a certain color, depending on the asterisk from which it was made

.
Gunpowder, paper, and a firework start
Book and Quill
Ideal for taking notes in Minecraft 1.2.7. It is possible to write in letters of different colors. After the player signs the book, it turns into a written book.
Ink sac, book, and quill
Armor Stand
You can equip with armor and give any item in your hands. Suitable not only as an item for storing armor but also as a decoration.
Smooth stone slab and sticks
Also, there were records with which you could listen to music on the player.
Canyon
New location in Minecraft 1.2.7. It generated a large crack in the ground. The height can be up to 30 blocks. Extremely useful for starting survival.
How can I tame a parrot?

Is it possible to somehow craft records in MCPE 1.2.7?

No. They can only be found in various structures.

What is a building block for?

It is mainly needed by map builders and developers. With its help, you can speed up construction at times.
download anchor
Minecraft 1.2.7 Download