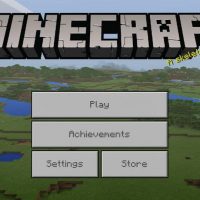 Minecraft PE 1.2.3
Download Minecraft PE 1.2.3
Download
Download Minecraft 1.2.3 full version with working Xbox Live for Android, and launch fireworks straight into the sky!
Minecraft 1.2.3 – What's New?
The Better Together update has become one of the most global. In this version of Minecraft Bedrock 1.2.3, new blocks, items have been added. In addition, the player, once in the jungle, can hear unusual bird sounds. This will turn out to be a parrot with an attractive color.
The main
The developers from Mojang, first of all, added new world settings to Minecraft 1.2.3. You can now enable a bonus chest and even add trusted players. If you activate cheats, then it will be possible to change other parameters.
For example, it will be possible to turn off the explosion of dynamite or the spread of fire. Another equally important innovation in Minecraft 1.2.3 is training. With its help, beginners will be able to get used to the game quickly.
Canyon
In Minecraft PE 1.2.3, the player, looking at the world's vastness, may notice a rift in the ground.
Coming closer, he will see a deep hole up to 30 blocks high. This location is called a canyon. Often there is both water and lava at the bottom. In rare cases, an abandoned mine can form along with the canyon.
Parrot
As mentioned earlier, this bird lives in the jungle in Minecraft 1.2.3 and has a bright color. You need to tame a parrot with seeds. After taming, the parrot will always follow the player and sometimes sit on the shoulder. It is not recommended to fall off the blocks, as the parrot will immediately get off.
Blocks and items
The Minecraft 1.2.3 update boasts an abundance of new blocks and items. First of all, it should be said about the blocks.
Flags and glasses
Available in 16 different colors. Perfect as a decoration for various structures. Flags can be crafted in the workbench using wool and sticks and colored glasses from the appropriate dye and ordinary glasses.
Book with feather
Another long-awaited innovation in Minecraft 1.2.3. With it, you can take various notes. This is especially necessary for the builders of maps, in which a large amount of information needs to be conveyed. Exclusive to Bedrock Edition can fit two pages on one screen.
How can I tame a parrot?

Is it possible to somehow craft records?

No. They can only be found in various structures.

What is a building block for?

It is mainly needed by map builders and developers. With its help, you can speed up construction at times.
download anchor
Minecraft 1.2.3 Download