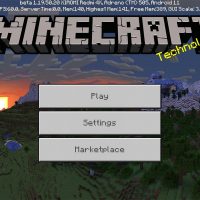 Minecraft PE 1.19.50.20
Download Minecraft PE 1.19.50.20
Download
Download Minecraft PE 1.19.50.20 with a working Xbox Live: be careful with the fruits of sweet berries, the bushes on which they grow again can cause damage to players.
What is new in Minecraft 1.19.50.20?
The updated version of cubic space is already available for players and it has several fixes that will please absolutely everyone. The fact is that earlier users noted that black pixels appeared on the Maps as a result of incorrect generation.
This could greatly affect the gameplay and become a big problem for the heroes. Fortunately, Minecraft PE 1.19.50.20 managed to eliminate this problem.
Also, the appearance of a new Clear Cache button can help in the process of downloading content. It is worth noting that it has become available on all platforms. It will be useful for players to know that only the contents of the Marketplace folders are cleared, and the worlds remain unchanged.
Mobs
In the cubic world, there are many dangers that players encounter on their way. First of all, these are various aggressive creatures, some of which can become a real horror for the heroes.
For example, in the Deep Dark biome, you can meet a completely blind monster who, despite the lack of vision, can find his victims very quickly just by sound. But not only monsters can harm heroes.
In Minecraft 1.19.50.20, bushes on which sweet berries grow can again cause damage to players.
Other changes
When using blocks such as Mud and Sand, players must take into account that they are drowning in water. Also, collisions for Farmland and Dirt Path were canceled for unspecified periods. This is done temporarily while the developers fix the errors that have appeared.
It will also be useful for players to know that in Minecraft PE 1.19.50.20, scrolling the list of trades in the village is working in full mode again and the problem with its use has been fixed. By the way, the Inventory key is no longer unlinked if the user uses the switch.
How does Warden find his victims?

What are the dangers of sweet berry bushes?

They can cause damage to the player.

Where can players meet Warden?
download anchor
Download Minecraft PE 1.19.50.20