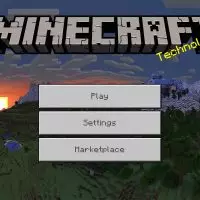 Minecraft PE 1.19.40
Download Minecraft PE 1.19
Download
Download Minecraft PE 1.19.40 with a working Xbox Live: use the spectator mode to watch the gameplay of other users.
Minecraft 1.19.40 Release
Users can get even more positive emotions from the gameplay thanks to Minecraft PE 1.19.40. In this version, the developers managed to make the cubic world even more interesting and diverse.
Also, players can take full advantage of the Spectator Mode, which has now ceased to be Experimental and has been moved to the base game. By the way, many critical bugs have been fixed that could interfere with stability and performance.
Viewer Mode
Since its appearance in Minecraft 1.19.40, this mode has remained experimental for a very long time and developers have been doing extensive work on it. This time, the users were hastened to rejoice that he was moved to the main game.
Now the audience will have the following opportunities: they will be constantly in a state of flight and will be able to pass through blocks to see through solid objects.
Mobs or other players who participate in the main gameplay will not notice them. And to other observers, they will look like flying heads.
For them, the authors have reduced the HUD and the quick access panel, the scale of health, hunger, and others are excluded for them. The great news will also be the fact that viewers will not need to sleep to wait out the night.
Blocks
In this version, the developers managed to fix some errors that occurred when interacting with various blocks. For example, it was previously noted that the screen of player is closed if he is floating above the mud. This problem has now been fixed.
Also in Minecraft PE 1.19.40, light blocks will no longer be invisible, including when choosing one of them. And if the player has passed through the portal, he will no longer teleport back to it.
It is also useful for users to know that the parts of the map that were damaged by black blocks can be restored by visiting them again.
Which mode allows you to watch the game in Minecraft PE 1.19.40?

How do observers see each other in MCPE 1.19.40?

They look like transparent flying heads.

What changes have occurred in the viewer mode?

It has been moved from the experimental switch to the base game.
download anchor
Download Minecraft PE 1.19.40