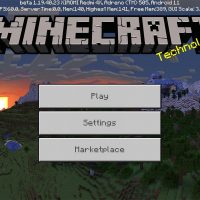 Minecraft PE 1.19.40.23
Download Minecraft PE 1.19
Download
Download Minecraft PE 1.19.40.23 with a working Xbox Live: fixed bugs related to teams and gameplay, as well as the behavior of some mobs.
What is new in Minecraft 1.19.40.23?
Once again, users of the cubic world were pleased by the developers with the release of the next update. It fixes some problems related to the viewer mode, the display of various blocks, and other technical issues.
For example, in Minecraft PE 1.19.40.23, when a player uses the /clone command to copy a column of bubbles, it will not cause an invisible liquid to appear.
Blocks and mobs
In this version, the developers have paid special attention to the mechanics of player interaction with various objects that surround it. Without a doubt, this will help make the gameplay more intense and exciting.
For example, the speed at which natural objects, such as forests, will burn has changed. And also the moment when the player destroys a block under a snow-covered flower, this will cause the flower to fall, and not a layer of snow, as it was before.
In general, Minecraft 1.19.40.23 has more thoughtful gameplay. Now creatures such as drowned people will not be able to change held items during an attack. It is worth noting that previously these creatures were returned to the biomes of warm oceans and they can again be met by players in these locations.
Technical changes
Developers are doing their best to bring something new to the cubic world, while also improving current processes. Thus, a bug has been fixed in Minecraft PE 1.19.40.23 that could significantly affect the entire course of the game.
The fact is that in earlier versions, players noticed the fact that they could not drag or select any item on the equipment page. Fortunately, at the moment this problem has been eliminated.
Also, the color has been changed for some text descriptions to make them more visible.
Which mode allows you to watch the game in MCPE 1.19.40.23?

Where can players meet drowned people in Minecraft 1.19.40.23?

Underwater, including in biomes of warm oceans.

Which mob lives in the Deep Dark biome?
Download Minecraft PE 1.19.40.23