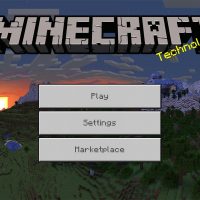 Minecraft PE 1.19.22
Download Minecraft PE 1.19
Download
Download Minecraft 1.19.22 for Android free with a working Xbox Live and going to the mangrove swamps you can meet bees and frogs.
Minecraft PE 1.19.22 Wild Update Release
The developers are trying to make the cubic world more perfect and interesting with each update. Players can enjoy a stable and exciting game in which new features and functions appear.
Minecraft 1.19.22 fixes a bug that has been bothering users for several releases. The fact is that after a long stay on densely populated servers, the player's textures and user interface turned pink. This problem will no longer occur.
Separately, it should be noted that the teleportation range was reduced for Enderman, and the drowned returned to the warm oceans.
Mangrove swamps
When exploring the cubic world, players can meet a new kind of swamp biome. As a rule, it is found near the jungle or desert. Players can not be afraid of meeting a witch, because her hut will not be generated in this territory.
Local reservoirs are distinguished by a beautiful turquoise hue, and under the water, you can meet tropical fish. Interestingly, the players will hardly see grass here, there will be mud everywhere under their feet. If it is dried, it can be used by players during construction.
It is worth noting that in Minecraft PE 1.19.22 many new features can help the heroes in the process of survival or the manifestation of their creative abilities.
Spectator Mode
Because Spectator Mode is still under development, various problems and errors are being identified in its work. Fortunately, most of them are corrected quickly. For example, observers lit up when they hit a lava cauldron, in Minecraft 1.19.22 this will not happen.
Also, players will notice that their capes will not be displayed in spectator mode. In any case, this is a great opportunity to try something new and interesting, as well as to observe the game process of other users.
download anchor
Download Minecraft PE 1.19.22