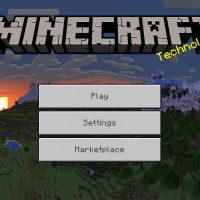 Minecraft PE 1.19.10
Download Minecraft PE 1.19
Download
Download Minecraft PE 1.19.10 Wild Update with a working Xbox Live: use golden armor to avoid Piglins attack.
What is interesting in Minecraft 1.19.10?
The developers of Mojang Studios in this version focused on correcting technical errors and failures. It is worth noting that all changes are made to make the gameplay even more stable and interesting.
In Minecraft PE 1.19.10, players will be able to assess the full scale of the work done. Largely because the creators fixed the problem due to which music was not played in Creative mode. Players can safely move between worlds, as the failures that occurred at this moment are completely eliminated.
Creatures
Because the developers are very careful to ensure that all mobs existing in the cubic world have interesting behavior and can interact with the hero, the gameplay becomes incredibly exciting. Bad news for zombie residents who do not have jobs. Now they would not be able to ride trolleys or boats.
In this version, for example, the appearance of the Wandering Trader in the game has been fixed. This will match the Java Edition. There have also been changes in the behavior of polar bears. They would not panic if they are attacked.
Players in Minecraft 1.19.10 Wild Update will have the opportunity to avoid the Piglins attack. To do this, it is enough to put on golden armor. The Ravager can now destroy more different plants and trees.
Blocks
The recently introduced mode immediately received a lot of rave reviews from users. In Minecraft PE 1.19.10, players can place blocks where the spectator is.
An interesting event can be observed if a mob without experience dies next to the Sculk Catalyst. In this case, it will blossom.
There have also been some changes in the mangrove swamp biome. For example, the leaves of local trees will not interfere with their growth. And also to get a Propagule you will have to wait until they reach their maximum growth.
How can a Minecraft PE 1.19.10 player avoid a Piglins attack?

He should wear golden armor.

What happens if a mob with no experience dies next to Skulk Catalyst?

In this case, the Sculk Catalyst will blossom.

What changes have occurred in the spectator mode in MCPE 1.19.10?

In this mode, players can place blocks where the spectator is.
Download Minecraft PE 1.19.10