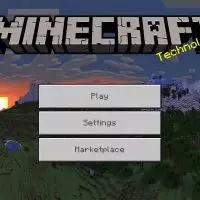 Minecraft PE 1.19.0
Download Minecraft PE 1.19.0
Download
Download Minecraft PE 1.19.0 Wild Update with a working Xbox Live: rate the experimental viewer mode and beware of a new formidable mob.

What is new in Minecraft 1.19.0?
Users are waiting with great impatience for every update of their favorite game. Minecraft PE 1.19.0 is pleased with the appearance of a large number of different creatures and new locations. Also, while in an experimental version, the spectator mode is already available for players.
The heroes will be able to watch the gameplay from the side, while not participating in it in any way. Users can connect to it now in the settings. This option is constantly updated to make it even more interesting for players to use it.
Ancient City
Exploring the Deep Dark biome, players can not only meet the creepy Warden mob, which is currently one of the most powerful creatures in the cubic world. They can also find a unique location – Ancient City.
A lot of old buildings will meet on the way of the player in this place, inside which you can find valuable items. For example, here players can find echo shards. This object is used when crafting the recovery compass.
To move on the water in Minecraft 1.19.0 Wild Update, a new type of boat is provided – with a chest. Now there is no need to worry that on a long journey there will be no necessary items or tools at hand.
Warden
In Deep Dark Biome, players will not receive the warmest welcome. Not only does this area look pretty creepy and inhospitable, but also the probability of meeting a new scary creature is very high.
This creature is guided only by sounds since it completely lacks eyes. If he notices the player, then just a couple of attacks will be enough to destroy even a well-equipped opponent.
To avoid meeting this monster in Minecraft PE 1.19.0 Wild Update, users should be extremely careful when moving.
What is Echo Shards used for in Minecraft PE 1.19.0?

For crafting the recovery compass.

How does Warden detect a victim in MCPE 1.19.0?

What mode is available to players?
download anchor
Download Minecraft PE 1.19.0