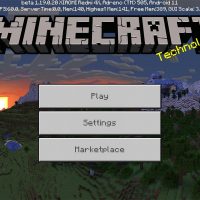 Minecraft PE 1.19.0.20
Download Minecraft PE 1.19
Download
Download Minecraft 1.19.0.20 with a working Xbox Live: go to the Mangrove Swamp, find blocks and mud block bricks!
What is new in Minecraft 1.19.0.20?
The developers have prepared an incredible update for all Minecraft PE 1.19.0.20 users. In the Deep Dark biome, players can now meet a terrible creature. His name is The Warden.
Even his name inspires fear and horror in everyone who has heard something about him. And if you find out about his abilities, then absolutely no one will remain indifferent.
Mangrove Swamps
Finally, the players can visit the Mangrove Swamp in Minecraft 1.19.0.20. It is a new biome in which you can find unusual blocks and trees. There are beautiful areas where mangrove trees grow.
Here players will also find mud, mud blocks, mud block bricks, and packed mud.
Terrible horror
In the arsenal of The Warden, there are many abilities, thanks to which almost no victim will leave him alive. Thanks to vibrations, this creepy creature moves in the space of Minecraft PE 1.19.0.20.
By the way, he has a very good sense of smell, which The Warden uses to find his victim. Be careful if you see him sniffing.
These mobs live in the Ancient City and Deep Dark biomes. At first glance, the players may not see them, but everyone should be as attentive as possible.
Because they are always somewhere underground. Screamers notify them and when there are enough sounds, The Warden will definitely attack.
Even if the player noticed that this creepy creature is nearby, it is better to try to pass unnoticed than to engage in battle with him.
It is enough to just wait 60 seconds and not move so that The Warden goes back underground.
New adventures
In Minecraft 1.19.0.20, players will not only encounter a dangerous enemy but also a lot of exciting journeys.
In the Ancient City biome, users can walk inside abandoned buildings, in which they will certainly find many unique things.
But the hero should be very careful because the treasures are guarded.
Error correction
In addition to these incredible updates, Mojang developers have fixed several bugs to make the world of Minecraft PE 1.19.0.20 even more exciting and interesting.
How to escape from the Warden?

Stay unnoticed for 60 seconds and he will dig into the ground and disappear.

What creatures guard the rewards in the chests in the Ancient City?

Sculk Sensors and Screamers.

What biome is the darkest?

Deep Dark is the darkest biome.
Download Minecraft PE 1.19.0.20