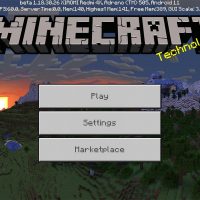 Minecraft PE 1.18.30.26
Download Minecraft PE 1.18
Download
Download Minecraft PE 1.18.30.26 with a working Xbox Live: explore unique territories, meet a new mob, use additional features of the game, evaluate fixed bugs, and much more!
What's new in Minecraft 1.18.30.26?
In this Update of Minecraft PE 1.18.30.26, the Mojang developers tried to fix a lot of different bugs, and also added interesting experimental features.
Gameplay
As it has already become clear, the game world does not stand still, it is constantly being updated, the development team fixes all the problems.
For example, in Minecraft 1.18.30.26 forests cannot be placed without support, and mobs will no longer appear on the campfire.
The appearance of iron golems and cats in closed rooms, for example, in underground villages, has become easier.
Mobs
the Mojang team has added the long-awaited Allay to this update of the game. Users can meet this creature new creature only after activating the experimental game mode.
Allay is a kind and responsive mob in Minecraft PE 1.18.30.26, he can:
Collect and hold items;
follow the player from whom you received the item;
give the items from inventory, he will try to transfer them to his owner.
In general, this is a fairly harmless and useful creature.
Players should know, Allay can get hung up on one subject, especially using the same blocks. For example, red sand.
Blocks and items
In Minecraft 1.18.30.26 Caves and Cliffs Part 2 Update, when a mob picks up an object, it will be attracted on the right side.
In addition, minor corrections affected the appearance of plants and the possibilities of their placement on blocks.
Other changes
There are some important fixes in the Minecraft PE 1.18.30.26 version:
Fixed an error with the Invite button;
during a fire, the trading screen will not open and villagers will not be able to trade at this time;
shulkers now can create other shulkers.
Is Allay a dangerous mob?

No, it's a harmless and useful mob.

What changes did villagers get?

Villagers can't trade during a fire.

What can Allay do?

Allay can collect and hold items.
download anchor
Download Minecraft PE 1.18.30.26