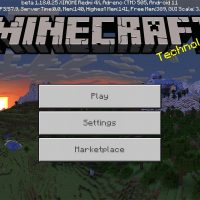 Minecraft PE 1.18.0.25
Download Minecraft PE 1.18.0.25
Download
Download Minecraft PE 1.18.0.25 for Android with a working Xbox Live: new music, sculk blocks, and more!
What's new in Minecraft 1.18.0.25?
Developers from Mojang Studios never cease to amaze their players with new updates. With each new release, they come closer to the full implementation of Caves & Cliffs.
In Minecraft 1.18.0.25, they added an experimental game mode as well as many new and interesting blocks. In addition, we fixed the bugs. Also, the player can now hear new music tracks in the game.
Sculk blocks
In Minecraft Bedrock 1.18.0.25, several new sculk blocks have appeared at once: catalyst, vien, shrieker, and sculk blocks. First of all, it should be said about sculk catalyst. This block can spread normal sculk blocks when a mob dies, depending on the amount of experience dropped.
When moving, the player creates vibrations that are recorded by the sculk sensor. These blocks, in turn, will activate the sculk shrieker blocks, which can impose the effect of darkness on the player. In addition, this unit is capable of producing very loud sounds.
New effect
As previously mentioned, in Minecraft 1.18.0.25, the sculk shrieker block can impose the effect of darkness on the user. This effect is very similar to blindness, but it does not completely deprive the player of sight. It only very severely restricts the player's view, which makes it difficult to move.
Vanilla experimental mode
Do not forget about the experimental mode in Minecraft 1.18.0.25, which will add variety to the gameplay. Now there is a new vanilla experimental mode. The function can be activated in the menu when creating the world.
The developers from Mojang Studios have added some innovations to this option. For example, items such as a goat's horn and an acoustic sensor are located here. The reason for this was the not entirely stable operation of these new products.
How long does the dark effect last in Minecraft 1.18.0.25?

What do I do with a goat horn?

You can utilize it to produce raid sounds.

What do I need to collect powder snow?
download anchor
Download Minecraft PE 1.18.0.25