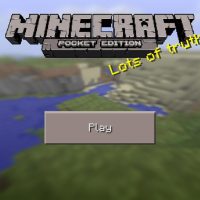 Minecraft PE 0.12.3
Download Minecraft PE 0.12.3
Download
Download Minecraft PE 0.12.3 free for Android: try to enchant ordinary objects, brew a potion and visit a new dimension.
What is new in Minecraft PE 0.12.3?
Developers have prepared a large-scale update. In Minecraft  0.12.3, new abilities are available to players: running and squatting.
New mobs have been added to the game, users can create one of them themselves. The iron golem is very strong and will protect the hero from opponents.
By the way, there are many new blocks and other features available in the game. The most interesting of them are the anvil, the sands of souls, and quartz ores.
Enchantment
The developers have pleased all fans with amazing new features in Minecraft PE 0.12.3. First of all, it is an opportunity to enchant ordinary things. With this ability, they acquire magical properties.
The charms will be unique for each item. For example, a bow will get a Power effect, but it will not be suitable for a sword. This weapon will get a Sharpness effect.
Also, the player can eat an enchanted golden apple and not be afraid of meeting even the strongest opponent.
Potions
In order to do potions in Minecraft  0.12.3, the player will need a cooking stand. To make it, users will need 3 blocks of cobblestone and a fire rod. The hero can get this item in the Lower World.
To get to this location, the hero must build an obsidian portal and set it on fire. Another player will need an infernal growth to make potions, it can also be found in the Lower World.
He is in a Hellish fortress, but players should be very careful because it is guarded by the undead.
Other changes
In Minecraft PE 0.12.3, many important and interesting features are available to players. In the cubic world, the weather is now changing, it may rain or snow.
Users can choose the difficulty level of the game, as well as monitor the level of hunger and increase the experience of the hero.
How can user get to the Lower World?

Where hero can meet an Iron Golem?

What will it take to create an enchanted book?
Download Minecraft PE 0.12.3