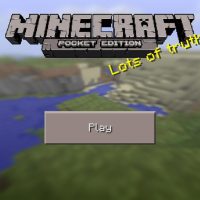 Minecraft PE 0.12.0
Download Minecraft PE 0.12.0
Download
Download Minecraft PE 0.12.0 for Free on Android: build a portal to get to the Lower World, try yourself in potions, and meet new mobs.
What is new in Minecraft 0.12.0?
The developers of Mojang Studios have pleased all fans of the game with the appearance of a new location called the Lower World. In order to get into it, users will need to build a portal.
Also, for the first time in Minecraft PE 0.12.0, hunger and experience strips appear. Now players will have to constantly monitor the indicators in order not to die.
New mobs
The developers decided to please users with several new mobs in Minecraft Pocket Edition 0.12.0 at once. These are iron and snow golems.
Both of these characters are neutral towards users. Therefore, it makes no sense to attack them.
The Iron golem protects the villagers from danger. Especially at night, when settlements are attacked by zombies. This mob is very strong and throws enemies at a fairly long distance.
The snow golem throws snowballs, so it is unlikely that players will receive damage from it. He leaves snow trails behind him.
In addition to these two creatures, zombie inhabitants, ifrits, ocelots, and desiccant skeletons have also been added to the game.
 Items and blocks
In this update, flasks, a rack, and enchanted books are available to users. All these items are required in Minecraft PE 0.12.0 for potions. By the way, the hero can independently create enchanted books using the enchantment table.
In order to repair broken things, an anvil is now available to players.
The Lower World
One of the most important innovations in Minecraft 0.12.0 can be considered the appearance of the Lower World. It is possible to get to this location only with the help of the portal.
The player should stock up on obsidian, it is he who will be needed to build the portal. After that, it will be necessary to enter it and use flint to set fire to the building.
How can users get to the Lower World?

Where hero can meet an Iron Golem?

What will it take to create an enchanted book?
Download Minecraft PE 0.12.0