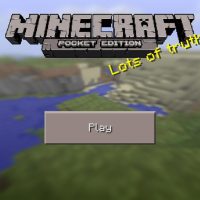 Minecraft PE 0.12.1
Download Minecraft PE 0.12.1
Download
Download Minecraft PE 0.12.1 Free for Android: try yourself in potions, monitor the level of experience and hunger, and explore a new world.
What is new in Minecraft 0.12.1?
Very important gameplay features appear in Minecraft PE 0.12.1. Now the hero can create potions and try enchantments.
By the way, a new world is available to players, in which I am waiting for incredible dangers and treasures.
Infernal Fortress
Now in Minecraft 0.12.1, a new world is available to players, which can be accessed using the Portal. Opponents will roam the Lower World, but it will be very interesting to explore the new location.
Because in the depths of this world users can find a real fortress. In it, the hero can find hidden treasures and various valuables.
But travelers should be very careful because there are enemies roaming around the structure that protect it.
But those heroes who dare to find the Fortress will be rewarded. In the rooms, players can find chests in which arrows, gold, and flint are stored.
The Iron Golem
In the village, players will be able to meet a new mob in Minecraft PE 0.12.1 – this is an Iron Golem. You can not be afraid of him, since he is neutral and will not attack the hero.
This character was created to protect villagers from zombies that attack them at night. An iron golem of very impressive size. This is the largest mob in the game.
By the way, players can create this character themselves, 36 iron ingots will be required. Users need to install them in the shape of the letter T and at the end, after need to install a pumpkin on them.
New features
As soon as the player gets into survival mode, he will be able to see two new stripes. They show the level of hunger and experience of the hero on Minecraft 0.12.1.
Naturally, hunger is replenished with food, and the hero can get more experience by killing various mobs.
By the way, the game has a large selection of armor: chain mail, gold, iron, diamond, and leather. But it can be used not only by players but also by the undead.
How can user get to the Lower World?

Where hero can meet an Iron Golem?

What will it take to create an enchanted book?
Download Minecraft PE 0.12.1