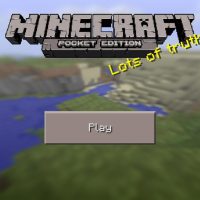 Minecraft PE 0.12.2
Download Minecraft PE 0.12.2
Download
Download Minecraft PE 0.12.2 free for Android: fight hostile mobs or create your own, evaluate the modified hunger and experience system.
What is interesting in Minecraft 0.12.2?
In Minecraft PE 0.12.2, heroes can create a very strong defender – an Iron Golem. He will kill all opponents except the Wanderer of the Edge and Cripper. Users can also create a snow golem, but it is much weaker.
Also fixed a lot of minor bugs that affected performance in previous versions.
The Lower World
In Minecraft 0.12.2, a new location has appeared – the Lower World. A hero can get into it by building an obsidian portal. The portal itself looks like a frame, it will need to be set on fire with a flint.
After that, users will get directly to the Lower World. This is a very inhospitable place, everything around is made of hellstone and a lot of lava.
Only the bravest heroes will be able to dare to visit this location because many hostile mobs are living here.
New mobs
In the Lower World, players are waiting for a dangerous but exciting adventure. This location in Minecraft PE 0.12.2 is inhabited by creepy and hostile creatures:
piggies – spawn in small groups. If the player does not bother them, they are not dangerous. But if the hero hits them, the whole pack will go on the attack;
ifrit – looks like a flying creature, around which fire rods are visible. Throws fireballs that can set fire to the player and the area around;
gast – looks like a big flying ball. He attacks with large fireballs.
Hunger and experience
Another interesting feature developers have added to Minecraft 0.12.2. Now users can monitor the level of hunger and experience of the hero.
If the hunger indicator is less than 30 percent, the player will not be able to run. At zero, the hero will lose health.
Experience can be gained by killing mobs or by mining diamonds and coal. Another way to obtain it is by melting it in a furnace.
How can user get to the Lower World?

Where hero can meet an Iron Golem?

From what items to create an Iron Golem?

Users will need iron ingots and a pumpkin.
Download Minecraft PE 0.12.2