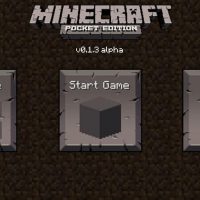 Minecraft PE 0.1.3
Download Minecraft PE 0.1.3
Download
Download Minecraft PE 0.1.3 for Free on Android: use previously unseen blocks, appreciate the improved landscape generation and invite friends to play together.
What is interesting in Minecraft 0.1.3?
Minecraft PE 0.1.3 is qualitatively different from other versions. The fact is that the developers of Mojang Studios have improved performance and worked on the stability of the game. In order for the gameplay to be even more interesting and exciting.
The scale of the interface has also been adapted to various devices. Thus, even more, users will be able to touch the amazing world, which is developing and getting new opportunities every day.
Opportunities
Despite the limited scope of use, Minecraft 0.1.3 already provides players with various opportunities for construction, exploration, and other activities.
Heroes can use about 36 different blocks, from which they can create any constructions. And if players do not like something, they can destroy it and start over.
In this version of the game, the heroes can see various minerals, mainly iron, gold, and diamonds. At the moment, there is no way to get them, so users can just enjoy the appearance of these amazing items.
Multiplayer
Judging by previous versions, the multiplayer game mode has gained great popularity among players. And this is quite expected because it is much more interesting to create something new and explore the unknown with friends.
In Minecraft PE 0.1.3, the developers have significantly improved this function. Thus, the loading of chunks has now improved. Thanks to the actions performed, the gameplay has become more stable and comfortable.
Multiplayer is a great opportunity to team up with like-minded people in order to have even more fun in their favorite game. Invent and create your own unique and inimitable world.
Is it possible to play multiplayer mode in MCPE 0.1.3?

Yes, but only over a local network.

What actions can a player perform with blocks in MCPE 0.1.3?

How many block variants are available?