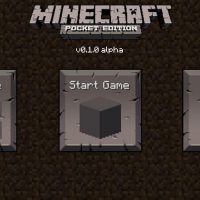 Minecraft PE 0.1.0
Download Minecraft PE 0.1.0
Download
Download Minecraft PE 0.1.0 for Free on Android: get useful resources and evaluate all the features provided.
What is interesting in Minecraft 0.1.0?
In this one of the most versions of the legendary sandbox, landscape generation occurs randomly. In this case, the player gets into a terrain limited by barriers. Infinite maps will appear in later versions of the game.
In Minecraft PE 0.1.0, the hero can explore the map in the hope of finding any useful and interesting items and blocks. Users can independently start the process of developing new lands or invite friends to discover the cubic world together.
It is worth noting that the multi-user mode is only available over a local network.
Blocks
In Minecraft 0.1.0, the hero can search for and use useful resources, which are various blocks. In total, there are thirty-six variants in this version.
Among which there is earth, wood, wool, and much more. These items can be mined and moved. Putting them together, users can try to build a dwelling in which the hero can create his own space.
New features
Exploring a space, though limited, can be a very exciting process. Moreover, in Minecraft PE 0.1.0 there are various landscape options. The player can meet a waterfall on his way, walk across the plain or see the mountains.
Also, a lot of greenery is already growing in the cubic world, including grass, shrubs, and many trees.
Play with friends
If the player gets bored exploring the cubic world alone. But he can call friends and come up with interesting entertainment and activities together. In Minecraft 0.1.0, this feature is only available over a local network, but in any case, it will be an unforgettable adventure into an unknown world.
The process of saving worlds takes place directly on the phone. Each player can save his results at any time and continue when it is convenient.
How many block variants are available in Minecraft PE 0.1.0?

What actions can a player perform with blocks in MCPE 0.1.0?

Is it possible to play multiplayer mode?

Yes, but only over a local network.