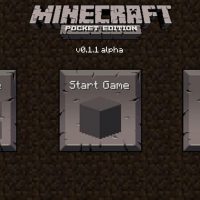 Minecraft PE 0.1.1
Download Minecraft PE 0.1.1
Download
Download Minecraft PE 0.1.1 for Free on Android: players can build, destroy and have fun with friends in a new unexplored world.
What is interesting in Minecraft 0.1.1?
In Minecraft PE 0.1.1, as soon as the player has downloaded the game, the first thing he sees is three buttons. Network game, world creation menu, and settings. The player can choose a nickname for himself so that other players can recognize him during the multiplayer game.
Users can also make changes to the graphics and change the vibration level. In this version of the game, the hero can only move by step. There is no way to run or fly yet.
But at the same time, the player can search for useful resources, build, break and start all over again.
Blocks
In Minecraft 0.1.1, the player has 36 options for different blocks, which make up the surrounding landscape. He can mine them, destroy them, or build something out of them.
From all the variety, the player can choose the necessary resources: several types of wool, stone, or wood. Further actions can be limited only by the imagination of the users.
To decorate the room, users can use two types of mushrooms and flowers. They do not have any functionality. By the way, a ladder is available in the game, which will help them go down or climb up.
No clear goals or objectives are set for the player. He can just have fun, explore the surrounding area or try himself in construction.
Multiplayer game
In order to be able to invite friends to play together, the user must create an access point on the device. Other players will have to connect to it.
Then the one who created the point should generate a map, and the rest of the heroes should choose the Join Game option. This way users can come up with interesting stories together and create unique adventures in Minecraft PE 0.1.1.
Players can start their amazing journey and create their own story right now.
What actions can a player perform with blocks in MCPE 0.1.1?

How many block variants are available in Minecraft PE 0.1.1?

Is it possible to play multiplayer mode?

Yes, but only over a local network.