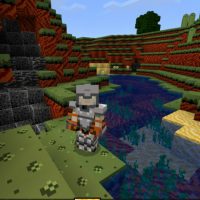 Retrones Texture Pack for Minecraft PE
Version MCPE: 1.12.0 - 1.20.40
Download
Download Retrones Texture Pack for Minecraft PE: immerse yourself in the incredibly interesting world of games of the past.
What is interesting in the Retrones Texture Pack?
Retrones Texture Pack is a unique update. That was created in the spirit of the last generation of computer games. In those days when the graphics capabilities were not as perfect as they are now, developers still managed to make very interesting content.
Players can plunge into the world of bright colors that create a unique atmosphere in Minecraft PE right now. Users will be interested in exploring the wonderful world. Which will now look completely different.
Main Features
To travel through time, it is not necessary to invent something, it is enough to download the Retrones Texture Pack. This update will allow users to feel the atmosphere and style of the games of the past years. It is worth noting that the authors have worked hard and changed absolutely every block and element in Minecraft PE.
It will be interesting for players to explore such an unusual space. At first glance, it seems that this is a familiar cubic world, but if the hero looks closely, all the changes become noticeable.
Graphics
The authors of the Retrones Texture Pack were inspired by old computer games like Mario and the like. All colors and shades have become more vivid and even cartoon. Exploring such a space will become even more interesting because in general, it is a familiar world of Minecraft PE.
By paying attention to each element, players will be able to assess how much extensive work was carried out by the development team. It is worth noting that the most eminent specialists created this update.
Go on a trip or stay and build something unique – in any case, players will get great pleasure from the time spent in their favorite game.
What if the Retrones Texture Pack does not work?

Try to activate the experimental game mode.

Can I use it on servers?

Yes, you are free to use it on public servers.

How do I install this texture pack?

The file is in .mcpack extension, so just tap on the file to automatically install the modification.
Download Retrones Texture Pack for Minecraft PE