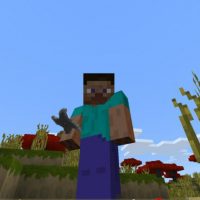 Japanese Texture Pack for Minecraft PE
Version MCPE: 1.2.0 - 1.20.41
Download
Download Japanese Texture Pack for Minecraft PE: embark on an exciting journey through an incredibly beautiful and inspiring space.
What is interesting in Japanese Texture Pack?
For all fans of the land of the rising sun, which combines the traditions of the past and the most modern trends, the authors have created a Japanese Texture Pack. This update for Minecraft PE is the epitome of exquisite style and the most incredible combinations of colors and shades.
Players can see that the cubic world will be transformed starting from the start menu. Also updated blocks. Also, plants and will receive a lot of interesting and previously never appeared in the game items.
Yamato
The author of Japanese Texture Pack was inspired a lot. It comes from the views and elegance of Japanese garden art. It's no secret that in this country they have great respect for nature and everything that surrounds a person.
Players will be able to appreciate how the entire surrounding space has been transformed. Trees have received new colors ranging from leaves to trunks. Also, many blocks have received new textures and interesting colors.
The world of Minecraft PE will change almost completely and it perfectly diversifies the gameplay. An atmosphere of calm and inspiration will surround the player in such a space. This will allow you to create new unusual buildings or go on an exciting journey.
Interface
In addition to the fact that the developer of Japanese Texture Pack changed the appearance of the game space, objects and blocks, he also changed the interface of Minecraft PE. Now all inscriptions will be depicted using hieroglyphs.
This immediately sets players up for the atmosphere of the land of the rising sun. The buttons of the main menu have been updated. They have received an exquisite color. This will give the cubic world more elegance and create an amazing mood during the game.
What if the Japanese Texture Pack does not work?

Try to activate the experimental game mode.

Can I use it on servers?

Yes, you are free to use it on public servers.

How do I install this texture pack?

The file is in .mcpack extension, so just tap on the file to automatically install the modification.
Download Japanese Texture Pack for Minecraft PE