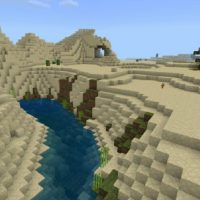 8×8 Texture Pack for Minecraft PE
Version MCPE: 1.16.0 - 1.19.63
Download
Download 8×8 Texture Pack for Minecraft PE: reduced resolution will create a very interesting and unusual picture of the cubic world.
What is new in the 8×8 Texture Pack?
The authors of the 8×8 Texture Pack managed to make the familiar world unusual while maintaining its recognizability. By reducing the resolution together, they managed to create a very interesting update that will appeal to absolutely all users.
It will be very unusual to explore such a space because everything around seems to have become smaller. Fewer details, but more pixelation and cartoonishness will create a completely new atmosphere in Minecraft PE.
8-bitCraft
This update for the 8×8 Texture Pack, although it will make the graphics easier, will not affect its quality in any way. And for owners of weak devices, it will also increase FPS, that is, the number of frames per second.
Minecraft PE users will still be able to enjoy the recognizable style of their favorite game, but with a brighter and juicier color palette. Players will have access to a very beautiful and at the same time not loaded with details pictures.
F8thful
In this update for Minecraft PE, the authors also tried to preserve the standard graphic style of the game as much as possible. Not only the entire space, blocks, tools, and things have been changed, but also the menu.
It is worth noting that the space looks very unusual. For those players who are used to graphics in the cubic world, but want to try something new, the 8×8 Texture Pack is perfect.
Digs Simple
The author of this update for the 8×8 Texture Pack is a professional pixel artist. A very large-scale work has been done, as every element of armor, weapons, and blocks have been changed.
Players using even the weakest devices will be able to enjoy the game. The world of Minecraft PE becomes accessible to everyone. Users can evaluate all the changes right now.
What if the 8x8 Texture Pack does not work?

Try to activate the experimental game mode.

Can I use it on servers?

Yes, you are free to use it on public servers.

How do I install this texture pack?

The file is in .mcpack extension, so just tap on the file to automatically install the modification.
Download 8x8 Texture Pack for Minecraft PE