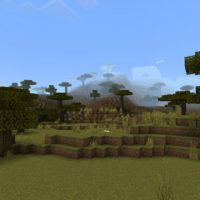 32x Texture Pack for Minecraft PE
Version MCPE: 1.16.0 - 1.20.40
Download
Download 32x Texture Pack for Minecraft PE: discover an updated world that has retained its uniqueness and knowability.
What is interesting in the 32x Texture Pack?
32x Texture Pack is an update that will make the space surrounding the player more detailed and clear. Every block and object will look new, while the cubic world will retain its uniqueness.
Minecraft PE has very recognizable graphics, which is called vanilla. It has certain features that players can always recognize. The changes will affect the entire surrounding space and make it even more interesting and diverse.
Multipixel
This update for the 32x Texture Pack is perfect for those players who want to improve the graphics in the game, but at the same time keep its recognizable appearance. Multipixel will double the resolution, which means that the picture will be even more colorful and interesting.
It is worth noting that the changes are suitable for any device, as the developers have worked very hard on optimizing it for Minecraft PE.
Depixel
To preserve the classic style of Minecraft PE and at the same time make the graphics smoother and richer, this update for the 32x Texture Pack will help. Players will be able to enjoy the new look of mobs.
All blocks and objects will look much more interesting and overall the overall impression of the game will be impressive.
Compliance
It should be noted right away that the general style of the cubic world will not change. But at the same time, the twice-improved picture will allow players to enjoy new features that absolutely everyone will definitely like.
32x Texture Pack will allow you to take a fresh look at familiar things. It is very easy to diversify the gameplay – just download the update and enjoy the updated design. Minecraft PE users are opening up new research opportunities.
What if the 32x Texture Pack does not work?

Try to activate the experimental game mode.

Can I use it on servers?

Yes, you are free to use it on public servers.

How do I install this texture pack?

The file is in .mcpack extension, so just tap on the file to automatically install the modification.
Download 32x Texture Pack for Minecraft PE