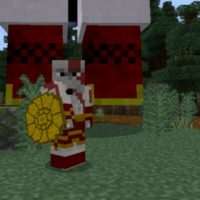 God of War Mod for Minecraft PE
Version MCPE: 1.17.0 - 1.19.63
Download
Download God of War Mod for Minecraft PE: get into a completely unique world of ancient Greek myths and get unique opportunities.
What is interesting in God of War Mod?
God of War Mod is created entirely based on the popular game, which is currently available only on Playstation. With this update, Minecraft PE users can feel like a participant in legendary events.
The original story is inspired by ancient Greek myths, which are remembered by a large number of different fabulous creatures, invincible gods, and brave heroes. Now all this can be transferred to the space of the cubic world.
Monsters
As soon as a Minecraft PE player enters a new world, he will be asked to remain himself or become one of the gods. In this case, he will become Kratos and will receive an incredible supply of health and strength.
Users will have to resist a large number of mythical creatures that will spawn all over the playing field. The hero will have to fight with a huge troll, which can create the effect of slowness, and therefore it will be extremely difficult to defeat him.
Other aggressive creatures in God of War Mod are Draugrs. Creepy zombie skeletons, which are easier to defeat alone. But if they attack in a group, it will already be more difficult to do. Each of them will impose a fade effect on the player.
Also, dangerous flying creatures called Dark Elves will appear in the game. They do not have a large reserve of health, but they cause a very high level of damage to the enemy.
The Gods
Of course, in addition to various creatures, God of War Mod will fill the Minecraft PE world with various gods. Hades, Zeus, Ares, and Hercules – all have a lot of damage and an incredible amount of health. To fight them, players will need to arm themselves.
A large selection of weapons and equipment will be at the disposal of the hero. Swords, tridents, and bows are the best way to defeat all possible opponents.
How do I install this God of War Mod?

The file is in .mcaddon extension, so just tap on the file to automatically install the modification.

Can this mod be run in a multiplayer game?

Yes, for this it is enough just to be the owner of the card and install this modification on it.

What if the mod does not work?

Try to activate the experimental game mode.
Download God of War Mod for Minecraft PE