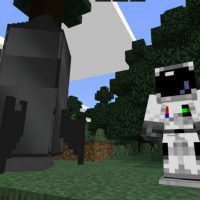 Galacticraft Mod for Minecraft PE
Version MCPE: 1.16.0 - 1.20.41
Download
Download Galacticraft Mod for Minecraft PE: create a spacesuit and a rocket and take it on a space trip to the moon to explore its expanses.
What is new in Galacticraft Mod?
Space travel is an unattainable dream for many, but what is not available in the real world can always be brought to life in Minecraft PE. Players will have everything they need to create a special suit – a spacesuit.
It is a necessary item for those who are going to fly to another planet. By the way, players will need to craft a rocket and fly it above the clouds. The authors of Galacticraft Mod offer to visit the Moon and walk around its territory.
Go straight to the stars and feel the whole atmosphere of this amazing adventure.
Items
It is impossible to imagine any cosmonaut or space traveler without a special spacesuit. They come in different shapes but mostly look pretty identical. In Galacticraft Mod, players will also have the opportunity to create such a costume.
By the way, it can also be found in the Inventory of the Creative Mode. The second important object for flight is a rocket. It is on it that the Minecraft PE player will be able to climb above the clouds to get straight to the Moon.
Space travel
After the preparatory process is completed and the player will have a spacesuit and a space rocket, it will be possible to hit the road. Go to the rocket and click on the ride button that appears.
As soon as the Minecraft PE hero is inside, the device will start to rise. By the way, it looks quite realistic, from the side you can even see how the fuel is flying out from below.
The endpoint of the journey in Galacticraft Mod will be the Moon. Players should be careful because the gravity there is not the same as on Earth and an astronaut can easily fly out of the territory.
On the satellite, you can walk through the craters and feel the incredible atmosphere of this place.
How do I install this Galacticraft Mod?

The file is in .mcaddon extension, so just tap on the file to automatically install the modification.

Can this mod be run in a multiplayer game?

Yes, for this it is enough just to be the owner of the card and install this modification on it.

What if the mod does not work?

Try to activate the experimental game mode.
Download Galacticraft Mod for Minecraft PE