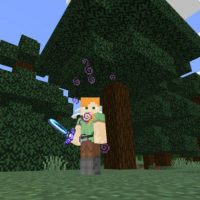 Epic Fight Mod for Minecraft PE
Version MCPE: 1.16.0 - 1.20.31
Download
Download Epic Fight Mod for Minecraft PE: use new swords to arrange an incredible battle and protect yourself from enemy attacks.
What is interesting in Epic Fight Mod?
Minecraft PE is not about large-scale fights and realistic slaughter. But many players lack exactly this in the cubic world. Of course, you can craft some types of weapons, but all of them do not have special properties or effects.
With such items, it is difficult to imagine a real PvP battle, so the authors of Epic Fight Mod have created seven new swords for players. Each of them is unique and can hit most opponents on the battlefield.
Methods of obtaining
The authors of Epic Fight Mod have provided two options for obtaining new items. Of course, you can craft them yourself. But it will be much easier and faster to use the command. It always starts the same way /gives @p pa: sword, and then you need to put a number from 1 to 7. Depending on it, the player will receive a certain sword.
After entering, an object will automatically appear in the next slot. There are seven of them in total, and absolutely each of them will give the Minecraft PE player a certain effect, and in some cases not even one.
Variants
The possibilities of new items can amaze even the most demanding Minecraft PE users. From one to six effects at the same time, the player will receive, simply by picking up a new sword. Here are some of them:
Rainbow- the ability to regenerate quickly;
Diamond Crystal – increased speed, underwater breathing, and even night vision;
Obsidian – slowing down the enemy and increasing resistance to attacks;
Ender – the player will not take damage from falling;
Fidger Spinner – the ability to jump very high;
Galaxy – invisibility.
Each of the items that Epic Fight Mod will add to the cubic world has a beautiful appearance. The hero can choose one of them or use all of them in turn, depending on the situation on the battlefield.
How do I install this Epic Fight Mod?

The file is in .mcaddon extension, so just tap on the file to automatically install the modification.

Can this mod be run in a multiplayer game?

Yes, for this it is enough just to be the owner of the card and install this modification on it.

What if the mod doesn't work?

Try to activate the experimental game mode.
download anchor
Download Epic Fight Mod for Minecraft PE