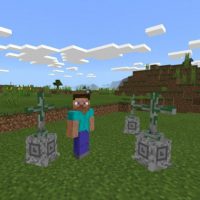 Gravestone Mod for Minecraft PE
Version MCPE: 1.14.0 - 1.20.31
Download
Download Gravestone Mod for Minecraft PE: always return to where you died and save all your resources.
What is interesting in the Gravestone Mod?
Survival in Minecraft PE can sometimes be a complicated and dangerous process. On the way of the player, there are dangerous creatures, the fight with which does not always end in victory. After a defeat, the probability of losing all your valuables is very high.
Thanks to Gravestone Mod, memorable tombstones will appear at the place of death. They work on the principle of a chest and will save everything that was in the quick access slots. As soon as the user returns to the game, he will be able to pick up all his items and resources.
Feel free to embark on any adventure, knowing that all important items can be saved.
Grave Mod
Thanks to this update for Gravestone Mod, quite realistic graves will appear in the Minecraft PE world after the death of the player. They are presented in several versions and have a cross.
This supplement works great together with others and is perfect for creating a mystical atmosphere. Tombstones can also be used as preservation points.
By the way, the new function is fully optimized and will work in all dimensions of the cubic world. After the player is reborn, he needs to find his tombstone.
In no case should it be destroyed, this will lead to the loss of all the resources available to it. Also, if there is a lava source nearby, the player may lose all items.
Tombstone
This Gravestone Mod add-on is very similar to the previous one except for one important aspect. To get all your resources that are inside the tombstone, it will need to be destroyed.
Another absolute plus can be considered that inside one coffin you can store twice as many items as in the Inventory of a Minecraft PE player. Rate such useful features and features to make the gameplay more convenient and easier.
How do I install this Gravestone Mod?

The file is in .mcaddon extension, so just tap on the file to automatically install the modification.

Can this mod be run in a multiplayer game?

Yes, for this it is enough just to be the owner of the card and install this modification on it.

What if the mod doesn't work?

Try to activate the experimental game mode.
download anchor
Download Gravestone Mod for Minecraft PE