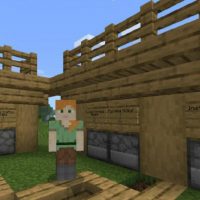 Recipe Map for Minecraft PE
Version MCPE: 1.0.0 - 1.20.41
Download
Download Recipe Map for Minecraft PE: use the updated items to create something new and interesting in the cubic world right now.
What is new in Recipe Map?
With the advent of various mechanisms and furnaces in Minecraft PE, a new era has begun. Users felt like real inventors and designers. Recipe Map makes all processes convenient and fast.
The authors have slightly changed the operation of the stove and workbench, so now all actions will take place literally in a matter of seconds. And thanks to the user-friendly interface, it will not be difficult for players to understand all the new features of this update.
Custom
This update for Recipe Map offers players to take advantage of a rather interesting mechanism in which you can create 9 variants of different blocks or items. It is worth noting that it will not be possible to create them in a regular workbench.
Choose one of the chests, open it and memorize the scheme. Next, you will need a block, which the author called the magic ejector. It is necessary to place objects in it and close it. To get the created object, open this fixture again.
Such an easy way to use it will allow Minecraft PE users to get the most out of it and quickly create the necessary things. Show all your talents in the crafting process and maybe come up with something unique and inimitable.
Crafting Recipes
For those players who understand the mechanisms and command blocks, this update for Recipe Map is perfect. This location is a mechanism by which you can change existing ones and create your own crafting recipes.
The user-friendly interface will allow you to make all changes quickly and easily. Also, for more convenient use, the mechanics of the stove were changed.
Now Minecraft PE players will just need to put the right block and coal into it and get a molten object in a few seconds. This will reduce the time spent and get more necessary resources.
How to download Recipe Map?

Tap the file and open it in Minecraft PE.

Can I use this map with my friends?

Yes, the map can be used for a multiplayer game.

Can i use the map in the survival mode?

Yes, the map is suitable for the survival mode.
Download Recipe Map for Minecraft PE