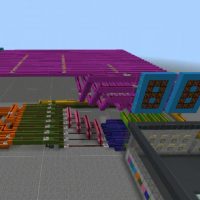 Calculator Map for Minecraft PE
Version MCPE: 1.2.0 - 1.20.41
Download
Download Calculator Map for Minecraft PE: use the new device to subtract, add, multiply and divide numbers.
What is new in Calculator Map?
Minecraft PE users have long been convinced that nothing is impossible in the cubic world. And Calculator Map is another confirmation of this fact. The authors have created huge calculating machines that will help players solve the simplest equations.
But in addition to practical benefits, these devices impress with their scale and interesting internal structure. Here users can see whole structures of command blocks and Redstone mechanisms in action.
Check out the unique device in action and get the opportunity to calculate different numbers.
Raffis
This update for Calculator Map is a fully functioning device that can add numbers. Also, the capabilities of the calculating machine include subtraction, multiplication, and division.
Now it will be possible to solve any mathematical problems directly in Minecraft PE. The algorithm of operation is quite simple and any user will be able to quickly understand it. Also, the author prudently posted the instructions for work.
Redstone
Another variant of a computer that will function in the vast cubic world is this update for Calculator Map. Players will find themselves next to a huge device in which a variety of Redstone mechanisms play the main role.
Thanks to them, the author managed to create a fully functional object for solving equations. The display consists of 7 parts that contain detailed instructions for use.
There are colored buttons on the wall. To start the calculation, just click on one of them, then pull the lever. Then press the next digit and check the result.
This update is notable for the scale and certain uniqueness of the possibilities offered to Minecraft PE players.
How to download Calculator Map?

Tap the file and open it in Minecraft PE.

Can I use this map with my friends?

Yes, the map can be used for a multiplayer game.

Can i use the map in the survival mode?

Yes, the map is suitable for the survival mode.
Download Calculator Map for Minecraft PE