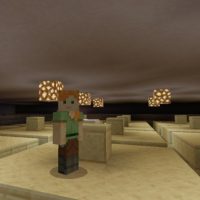 House Trap Map for Minecraft PE
Version MCPE: 1.19.0 - 1.20.15
Download
Download House Trap Map for Minecraft PE: face your fears, solve riddles and puzzles, and fight with hordes of dangerous monsters.
What is interesting in House Trap Map?
This time, the developers of House Trap Map have prepared really interesting, but also very dangerous adventures for Minecraft PE players. On the territory of a large mansion, there is a large number of various mechanisms and labyrinths.
At the same time, you need to go through a variety of tests in conditions of constant attacks by monsters. Among these, there may be not only creepers and spiders but also zombies. By the way, every time there will be more and more of them.
Location Features
The main feature of the House Trap Map location is that each room and room has its own obstacles and challenges for players. When moving, you should always be careful.
All kinds of mechanisms will help to add variety to the gameplay, as well as the opportunity to find a variety of resources. Also, Minecraft PE players will have to independently create weapons and armor that will help resist dangers.
Turn the usual gameplay into an exciting adventure that will be filled with interesting events.
Dangerous inhabitants
It is worth noting that the tests will not be easy. Each time there will be more and more opponents and it will be more and more difficult to cope with them.
Use any weapon options you can find or craft to repel the attacks of dangerous creatures. Find hidden resources in order to be able to use them in the process of survival in the future.
It will be important for Minecraft PE players to know that there are many very useful and necessary objects hidden on the territory of the House Trap Map. It is only necessary to try to find them all in order to cope as quickly as possible with all the difficulties that the authors of this supplement have prepared for them.
How to download House Trap Map?

Tap the file and open it in Minecraft PE.

Can I use this map with my friends?

Yes, the map can be used for a multiplayer game.

Can i use the map in the survival mode?

Yes, the map is suitable for the survival mode.
download anchor
Download House Trap Map for Minecraft PE