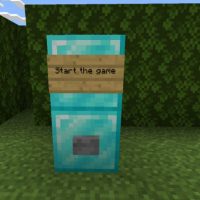 Starting Map for Minecraft PE
Version MCPE: 1.16.0 - 1.20.31
Download
Download Starting Map for Minecraft PE: pass the tests, find buttons and unique objects, and also try to build your city.
What is new in Starting Map?
Starting something new is always difficult, so the authors of the Starting Map have created an ideal territory. On it, players can create a modern city or a medieval settlement.
By the way, the Minecraft PE heroes can show all their abilities in the tests, where they will need to look for a button to go to the next level. In the process of searching, they will meet Easter eggs, as well as very unusual and even unique items.
Find Starting Button
This add-on for Starting Map is a variety of tests, the purpose of which will be to find the button. At each of the levels, Minecraft PE players will encounter unique objects, and they will also be able to find secret Easter eggs.
On the territory, players will meet a small house, as well as a cave that will lead them to the goal.
The task options will be very interesting and executed in the style of parkour or all kinds of mazes. The author managed to organically combine all the tasks in one update, which will interest players with any level of training.
Start the adventure right now and show all your skills to win this challenge.
City Starter
And for those players who like to show their abilities in construction, the authors of Starting Map suggest starting the creation of their city or settlement. This location contains three full-fledged islands. Initially, there is nothing on them except a variety of vegetation and other natural blocks.
Each of them is ideal for the construction of skyscrapers, castles, or other buildings. You can start from scratch and build something unique and unrepeatable right now.
Thus, Minecraft PE players can fully show all their talents and realize any ideas right now. The territory is ideal for this.
How to download Starting Map?

Tap the file and open it in Minecraft PE.

Can I use this map with my friends?

Yes, the map can be used for a multiplayer game.

Can i use the map in the survival mode?

Yes, the map is suitable for the survival mode.
download anchor
Download Starting Map for Minecraft PE