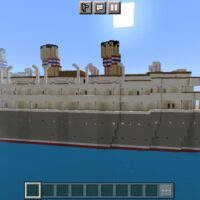 Ship Map for Minecraft PE
Version MCPE: 1.16.0 - 1.20.32
Download
Download Ship Map for Minecraft PE: Visit the legendary cruise liner, search it, and find out all the secrets that are hidden in this place.
What is interesting in Ship Map?
The authors of Ship Map offer players to feel themselves on board the famous ship or go on it to conquer the seas of Minecraft PE. This type of transport is distinguished not only by its impressive scale but also by a wide range of entertainment and recreation options.
Players can settle in any of the cabins, arrange themed adventures with friends, and much more. Hit the road and let the wind blow into your sails.
Floria
Minecraft PE players can visit the ancient ship on which they went to sea at the beginning of the last century right now. To do this, it is enough to install this update and be sure to invite more friends because it is always more interesting together.
It is worth noting that this location for Ship Map is characterized by maximum comfort and thoughtfulness of each element.
Ocean Dream
In the real world, not everyone can afford to go on a cruise ship trip at least once in their life. But all this, of course, is available to Minecraft PE users.
Plunge into the world of luxurious adventures, feel rich, and enjoy your vacation at this wonderful location for Ship Map.
Ship Map
The largest of all Ship Map buildings is a ship of the Kingdom of Norway and its scale and interior are amazing.
Here Minecraft PE players will also find a spacious upper deck with a wonderful view of the surrounding nature. Inside, everything is chic. A wide variety of cabins for first and second-class passengers, as well as spacious rooms for games, meals, and entertainment.
The location is so large-scale that players can even get lost in it, so the authors prudently added signs and pointers. Invite your friends to have a themed adventure or party together.
How to download Ship Map?

Tap the file and open it in Minecraft PE.

Can I use this map with my friends?

Yes, the map can be used for a multiplayer game.

Can i use the map in the survival mode?

Yes, the map is suitable for the survival mode.
Download Ship Map for Minecraft PE