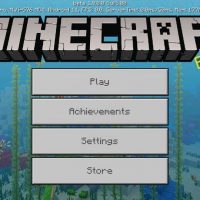 Minecraft PE 1.9.0.0
Download Minecraft PE 1.9.0.0
Download
Download Minecraft 1.9.0.0 full version with working Xbox Live for Android, and visit the bamboo forest where pandas live!
What's new in Minecraft PE 1.9.0.0?
This is the first preview build for version 1.9 Village and Pillage. Minecraft 1.9.0.0 has a large number of new decorative blocks. In addition, the developers from Mojang have added one new biome and one mob.
Pillager
This is a creature hostile to the player in Minecraft 1.9.0.0, which has 24 life units. Pillager does not wear armor and always attacks with a crossbow. His favorite place for attacks is villages, which he is not averse to destroying completely. In Minecraft 1.9.0.0, it is called a marauder.
Sometimes a pillager's crossbow can break, after which he will have nothing to attack with. This makes him the only hostile mob capable of becoming passive.
Bamboo forest
With the release of MCPE 1.9.0.0, the jungle has undergone some changes. Having been in the jungle, the player can get to a location without trees. Instead, there will be the only bamboo. This is a new generation called a bamboo forest. A bamboo forest is a favorite place for pandas, as they always have food here.
Blocks
In Minecraft 1.9.0.0, many new blocks have appeared, which are especially suitable for decorating structures. To be more precise, various types of blocks already existing in the game have been added.
For example, now the player can build a sign from 5 different types of wood. Also, in Minecraft 1.9.0.0, there are 2 more new types of flowers: cornflower and lily of the valley.
Other minor fixes
Of course, the developers did not forget about the errors in Minecraft 1.9.0.0:
items in hand are displayed correctly when changing the resource pack;
the player

can use crossbows to hit mobs

;
the user can destroy falling blocks using commands;
a notification is displayed when a tamed animal dies.
Has the panda issue been fixed?

Yes, pandas now eat food correctly.

How to find a bamboo forest?

This is a small location that can be located in any part of the jungle.

Do robbers have any protection?

No, they go without armor. But at the same time they have 24 units of life.
download anchor
Minecraft 1.9.0.0 Download