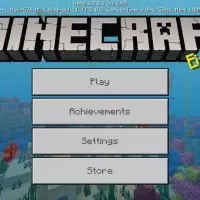 Minecraft PE 1.9.0
Download Minecraft PE 1.9.0
Download
Download Minecraft 1.9.0 full version with working Xbox Live for Android, and check out the new blocks, robbers, and the bamboo forest!
What's new in Minecraft PE 1.9.0 Village and Pillager?
Finally, the developers from Mojang have released the long-awaited release of Minecraft 1.9.0 Village and Pillage. They added a rogue, a bamboo forest, and new blocks. In addition, now the authors of various modifications have much more possibilities since the Script API has been updated.
Blocks
The first thing to start with a Minecraft 1.9.0 review is blocks. This is where the developers put most of the effort.
New species
A large number of new types of various blocks have appeared. For example, from now on, signs can be made from 5 different trees. The color of each plate will correspond to the color of the material from which it was made.
And the same slabs can be built from more than 15 completely different blocks. Exclusively for Minecraft 1.9.0, the developers have added red sandstone and carved sandstone steps.
Rest
In addition to updating existing blocks, new ones have appeared in Minecraft 1.9.0. The archer's table, smelting furnace, barrels, lantern, and bell deserve special attention.
The lantern can illuminate any area, and the bell is used to disperse residents to their homes. Now you should be more careful with the tension sensor because when it is destroyed, it is activated.
Pillager
A new hostile mob was introduced in Minecraft 1.9.0. Has 24 units of health and attacks using a crossbow. Since the Rogue is currently only available in experimental game mode, he does not appear in the regular world. Pillager is the only mob in the game that can break a weapon.
Bamboo forest
A new type of jungle in Minecraft 1.9.0. There are practically no trees in the bamboo forest. Pandas live here as they feed on bamboo.
Has the panda issue been fixed?

Yes, pandas now eat food correctly.

How to find a bamboo forest?

This is a small location that can be located in any part of the jungle.

Do robbers have any protection?

No, they go without armor. But at the same time they have 24 units of life.
download anchor
Minecraft 1.9.0 Download