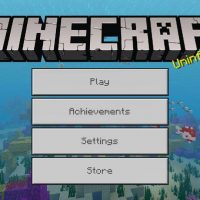 Minecraft PE 1.9.0.3
Download Minecraft PE 1.9.0.3
Download
Download Minecraft 1.9.0.3 full version with working Xbox Live for Android: robber, bamboo forests, new blocks, and more!
What's new in Minecraft PE 1.9.0.3 Village and Pillage?
Third pre-build for 1.9. This time, the developers from Mojang have greatly expanded the capabilities of the authors of various add-ons. They will be able to add new creatures, blocks and set some properties for them. This is the latest version from the 2018 Minecraft edition.
Pillager
With the release of Minecraft 1.9.0.3, another new mob has been added to the list of player's enemies – a pillager. He attacks with a crossbow so that he can fight at a long distance. He has 24 units of health but does not wear any armor. Also, the pillager is aggressive towards the inhabitants.
Bamboo forest
Traveling through the jungle in Minecraft 1.9.0.3, the player can get to a location where the only bamboo grows. This location is called the bamboo forest. There are practically no trees here, but at the same time, there are many pandas.
Blocks
A large number of new blocks have appeared in Minecraft 1.9.0.3. Basically, these are new types of existing blocks that are great for buildings. A bell, barrels, and a smelting furnace also appeared. You can store things in barrels, and by knocking on the bell, the player can disperse all the inhabitants to their homes.
Along with the addition of new blocks, the crossbow has also undergone some changes. In Minecraft 1.9.0.3, it has a larger size when in the hand of a rogue.
Fixes in Minecraft 1.9.0.3
The developers did not forget about the bug fixes in Minecraft 1.9.0.3:
teleportation of the player in rare cases to the boat while being near the water;
the player is not revived in a half-dead state if he was killed in bed;
the beacon beam is displayed correctly;
Tamed llamas do not glow when opening their inventory.
Has the panda issue been fixed?

Yes, pandas now eat food correctly.

How to find a bamboo forest?

This is a small location that can be located in any part of the jungle.

Do robbers have any protection?

No, they go without armor. But at the same time they have 24 units of life.
download anchor
Minecraft 1.9.0.3 Download