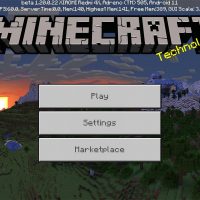 Minecraft PE 1.20.0.22
Download Minecraft PE 1.20.0.22
Download
Download Minecraft PE 1.20.0.22 with a working Xbox Live: explore an incredible and very diverse cubic world and start your most memorable adventures.
Minecraft 1.20.0.22 Trails & Tales Update
This version of Minecraft PE 1.20.0.22 turned out to be very diverse and interesting, in which the developers of Mojang Studios solved several critical errors at once and added a lot of new things to the cubic world.
New music tracks will be played in 5 biomes at once. It will be possible to place plants such as bamboo, cactus, and sugar cane on suspicious sand.
New skills
To master the new skill of decorating all elements of armor with beautiful drawings. Players will have to collect all the necessary items. Firstly, this is of course the equipment kit itself, you will also need any of the materials, for example, iron or gold.
But the most important element is the Template. To search for it in Minecraft 1.20.0.22, go to structures that are located in almost any biome. By the way, the pattern will be different every time.
Some of them will be extremely difficult to find, which will undoubtedly increase the value of the finished kit.
Using ancient debris
As you know, players have been waiting for the appearance of such a phenomenon as Archeology in the cubic world for several years. And now in Minecraft 1.20.0.22, it became available in full. Heroes can find fragments of clay objects in the sand.
You can use them to create beautiful objects that will decorate any interior. By the way, at the moment, the number of fragments already totals 20 pieces and each of them has a unique pattern that will later appear on the vase.
Sniffer Features
The developers of Mojang Studios continue to develop the skills of this mysterious prehistoric creature. Previously, he was known for being able to find the seeds of a plant called Torchflower.
In Minecraft PE 1.20.0.22, another unusual Pitcher flower was added to it.
What seeds can Sniffers find in Minecraft 1.20.0.22?

What are the Templates used for in MCPE 1.20.0.22?

Where can players find suspicious sand?

In the desert and under water.
download anchor
Download Minecraft PE 1.20.0.22