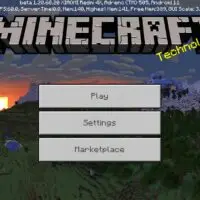 Minecraft PE 1.20.60.20
Download Minecraft version 1.20.60.20 apk free
Download
Download Minecraft 1.20.60.20 for Android Free: spend an unforgettable time with your favorite game, and enjoy the incredible possibilities of copper.
Minecraft 1.20.60.20 Beta: Unblocked Version
The fascinating study of the cubic world is becoming more interesting and unusual by the minute. In Minecraft Bedrock Edition 1.20.60.20, players are waiting for a lot of incredible discoveries and a lot of dangers.
Developers do not forget about correcting various errors and failures. For example, in MCPE 1.20.60.20 they managed to adjust the display of various armor elements, as well as problems when using custom items.
Copper
As many players know, such a valuable resource as copper was previously available in the cubic world. It could be obtained with a pickaxe and then used to create various objects, such as a lightning rod or a telescope.
Also recently, it has become one of the important ingredients in the creation of a Brush, which is indispensable in Archaeology. But in Minecraft version 1.20.60.20, a new stage in the use of copper begins. Creation is available from this metal:
grates;
doors;
trapdoors, while in Minecraft PE 1.20.60.20 all items are available in

various textures

.
This is because during use this material is oxidized and changes its color from red-brown to turquoise.
Crafter
Easy to use and possessing unique properties, Crafter instantly received maximum attention from users. Indeed, in Minecraft Pocket Edition 1.20.60.20, it is very easy to assemble. And given the fact that it can work automatically, it makes it universal in various game processes.
Other changes
The developers paid special attention in Minecraft 1.20.60.20 to a new structure called Trial Chambers, it is content, and its inhabitants.
It is worth noting that it will be generated in Overworld and consist of Copper and Tuff blocks. Inside, players will encounter various dangerous creatures, including the rather dangerous Breeze.
This monster uses the power of the wind to attack opponents.
What is Crafter used for in Minecraft PE 1.20.60.20?

What ingredients are needed to create it in MCPE 1.20.60.20?

Iron Ingots, Redstone Dust, Crafting Table, Dropper.

What is the explosion resistance of Crafter?
Minecraft 1.20.60.20 Download