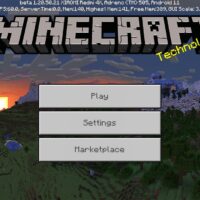 Minecraft PE 1.20.50.21
Download Minecraft version 1.20.50.21 apk free
Download
Download Minecraft 1.20.50.21 for Android Free Trails & Tales Update: find out what new possibilities of using Crafter have emerged in the block space as well as other improvements.
Minecraft 1.20.50.21 Beta: Unblocked Version
A lot of various changes have occurred in Minecraft Bedrock Edition 1.20.50.21. All of them make the gameplay even more stable and diverse. For instance, Librarians can now sell, among other things, enchantments of the highest level. But this only works in Experimental mode.
The developers also reported that in this version, Witches who were created using spawn eggs can join raids and attack opponents. Also, sliding will not be an obstacle for the Phantoms not to attack the players.
Archaeology
Archaeology emerged in the block space not so long ago, but immediately interested a large number of users. In MCPE 1.20.50.21, this process continues to evolve, new interesting aspects appear in it.
Players who decide to go in search of antiquities should first of all find Suspicious sand and gravel. By the way, in Minecraft PE 1.20.50.21 they cannot be discovered on the Ruins of the Cold Ocean.
Decorated Pots
In the process of archaeological searches, players in Minecraft version 1.20.50.21 can discover items such as:
Sniffer eggs to grow and tame this mob;
Templates with which you can even decorate custom armor in Minecraft 1.20.50.21;
Clay fragments and decorated Pots can be crafted from them.
It is these pots that have finally been put into practical use. They can now store items in stacks, but to extract the objects placed inside, they will have to be destroyed.
Settings
Some changes in Minecraft Pocket Edition 1.20.50.21 also affected the technical component of the game. The creators have completely changed the screen with information on how to play.
A new screen was also added, which in Minecraft PE 1.20.50.21 was named Encyclopedia.
Crafter
New features appear for players in Minecraft 1.20.50.21. The fact is that a completely new device appears in this version, which was recently announced by the developers.
Crafter is a block that will create items, a kind of automatic workbench that is controlled by redstone.
Why can players use Decorated Pots in Minecraft PE 1.20.50.21?

How do I remove items placed inside Decorated Pots?

In MCPE 1.20.50.21 only breaking it.

Where can I not find Suspicious blocks?

On The Ruins of the Cold Ocean.
Minecraft 1.20.50.21 Download