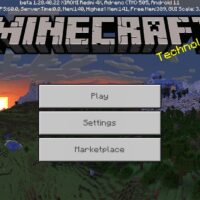 Minecraft PE 1.20.40.22
Download Minecraft version 1.20.40.22 apk free
Download
Download Minecraft 1.20.40.22 for Android Free Trails & Tales Update: Find more interesting and unique locations, as well as explore new features and settings.
Minecraft 1.20.40.22 Beta: Unblocked Version
A lot of various changes have occurred in Minecraft PE 1.20.40.22. It will be useful for users to familiarize themselves with them because right now they can be used in the gameplay.
Firstly, the crawling function in Minecraft version 1.20.40.22 is fully embedded in the gameplay, it no longer needs to be enabled in the Experimental Settings. The same changes have occurred with Unlocking recipes, but it is still possible to enable or disable it in each world. Also, when the player has died, he will see an updated screen. The camera is set up so that you can see the place of death.
Cherry Orchard
This biome in Minecraft Pocket Edition 1.20.40.22 has already established itself as a space where you can take a break from the hustle and bustle and collect various valuable resources. By the way, from now on, the Wandering Trader will also sell cherry tree wood.
But just relaxing can be boring. For Minecraft 1.20.40.22 players not to relax too much, Pillager Outpost will be generated near the Cherry Orchard. Be careful and careful.
Sounds
Of course, a beautiful and diverse picture creates a positive impression of the gameplay, but the soundtrack also plays a huge role in creating the right atmosphere.
That is why new sounds have been introduced in Minecraft Bedrock Edition 1.20.40.22. For example, empty cards will play a sound when players take them out. Also, they will occur when pigs turn into zombie piglins.
Detecting structures
Trails Ruins in Minecraft PE 1.20.40.22 attract more and more attention from users. This is quite natural because in this location you can find a lot of interesting and useful items:
find the location of the structure
go underground
in MCPE 1.20.40.22 it is possible to discover unique objects of antiquity.
It will be useful for players to know that only a small part of this location is on the surface, to find more, you need to go underground.
What are the Templates in Minecraft PE 1.20.40.22 for?

Where can players in MCPE 1.20.40.22 find Templates?

What subject is indispensable in Archaeology?
download anchor
Minecraft 1.20.40.22 Download