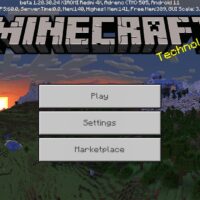 Minecraft PE 1.20.30.24
Trails & Tales Update (Beta version)
Download
Download Minecraft 1.20.30.24 for Android Free: Rate the updates in the menu, as well as fixed bugs and other changes that have occurred in the cubic world.
Minecraft 1.20.30.24 Beta Trails & Tales Update
Every time with great impatience, players are waiting for a new version of their favorite game, because this means that new options and opportunities are waiting for them. Minecraft PE 1.20.30.24 will be remembered for the fact that in this update, the developers presented a modified version of the menu.
First of all, it is worth noting that navigation has been changed in it, as well as the design has been improved. The Realms tab is separated from the rest. The Create a New World and Create from Template buttons were also delimited. The authors hope that such innovations will appeal to users and look forward to feedback on their impressions.
Fascinating excavations
Mojang Studios developers invite you to go on an exciting expedition, following the results of which the player can become the owner of unique artifacts. It is worth noting that Minecraft PE 1.20.30.24 Trails & Tales Update stands out precisely by the appearance of Archaeology, Suspicious Blocks, and the Ruins of the Trail structure.
All these areas and objects are directly related to the excavation process. To begin with, you should get a simple item that is quite easy to craft. This is a brush and with its help, you will need to clean sand and gravel and get unique items from them.
Updated equipment
Developers are constantly coming up with new opportunities to develop the creative abilities of players. Of course, not everything is so simple, but this is the main feature of the process of creating updated equipment.
First of all, go to the most diverse structures of Minecraft Bedrock 1.20.30.24 and look for Templates in them. All of them have unique patterns that will be transferred directly to the armor in the future. Some variants are quite common, while others will be so rare that finding them will be a great success for players.
What are the Templates in Minecraft PE 1.20.30.24 for?

Where can players in MCPE 1.20.30.24 find Templates?

What subject is indispensable in Archaeology?
download anchor
Minecraft 1.20.30.24 Download