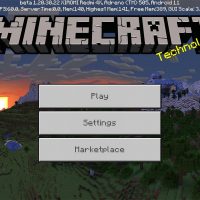 Minecraft PE 1.20.30.22
Download Minecraft PE 1.20.30.22
Download
Download Minecraft 1.20.30.22 for Android Free: search suspicious blocks in search of amazing artifacts, evaluate the updated appearance of the armor, and continue the adventure!

Minecraft 1.20.30.22 Trails & Tales Update
Mojang Studios developers are not always ready to please players with a large number of various updates. Most often there are not so many of them, but at the same time. They can be extremely important for the entire gameplay.
This is exactly what happened in Minecraft PE 1.20.30.22, where only two problems were fixed. It is worth noting the fact that thanks to the fixes, there will be much fewer crashes in the game. By the way, purchases in the In-game market will no longer be accompanied by errors.
New locations
Traveling around the cubic world becomes more interesting with each update. Developers are making every effort to diversify the locations where players meet on their way.
In Minecraft 1.20.30.22, you can select two places that will appeal to all users without exception. After visiting the Cherry Biome, players will get a new kind of wood and a pink dye and also spend time in a very beautiful and peaceful place.
The second option is not generated independently. So the heroes will have to work hard to build it on their own. A village without inhabitants can be a great place for new exciting adventures.
Archaeological searches
Each user spends quite a lot of time in the process of searching for valuable resources, food, or treasures. This time, another activity has been added to this list – Archaeological searches.
In the process of exploring the desert territory in Minecraft PE 1.20.30.22. Unusual blocks of sand and gravel will come across the eyes of the heroes. They are called Suspicious. Start by cleaning these objects with a Brush. Next, the heroes will receive several variants of useful artifacts.
Artifacts
Among the items found in suspicious sand in Minecraft PE 1.20.30.22. Fragments of clay vases, Sniffer eggs, or blacksmith Templates may appear.  All of them have practical value and can be used during the game.
In which blocks can artifacts be found in Minecraft PE 1.20.30.22?

In suspicious sand and gravel.

Where can players meet such blocks?

In MCPE 1.20, you can go to the desert or to the Ruins of the Trail to search.

What artifacts can be found in Suspicious Blocks?

Fragments of clay vases, Sniffer eggs or Templates.
download anchor
Minecraft 1.20.30.22 Download