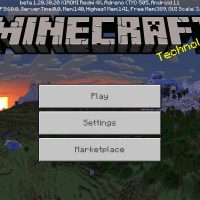 Minecraft PE 1.20.30.20
Trails & Tales Update (Beta)
Download Minecraft 1.20.30.20 for Android Free: find out what new options have become available to players in this version and be sure to try them in the gameplay.
Minecraft 1.20.30.20 Trails & Tales Update
This time, the developers of Mojang Studios decided not to add new elements to the cubic world, but only to work on correcting errors. Moreover, the number of them is only two. But it is worth noting that they helped to increase the stability of the gameplay.
Thus, the total number of failures was significantly reduced, and the behavior of mobs such as Ifrits was also corrected. But the interesting moments in Minecraft PE 1.20.30.20 do not end there, there are still a lot of unusual and amazing things in the game.
New option
You can show your creativity in Minecraft 1.20.30.20 in a variety of ways. You can, for example, build a beautiful building or explore the possibilities of designing  an equipment of the player.
Previously, such an option has never been available in the cubic world, and that's why the interest in it is so great. To start the process, one important subject is required – Templates. You can find them in structures all over the boundless world.
Biomes
An absolutely safe and very picturesque place in Minecraft PE 1.20.30.20 is the Cherry Grove biome. It differs from other locations of the cubic world by the predominant pink color throughout its territory.
Here players can meet such useful animals as rabbits, sheep, pigs, and even bees. All of them can be tamed and become allies of the player.
Characters
A Sniffer can help players in finding new seeds for planting. This character has a truly phenomenal sense of smell, which helps him find food.
Of course, following it, you can find seeds of two types of plants. By the way, it is Torchflower that is used to tame the Sniffer and create its population of these unusual animals Minecraft 1.20.30.20.
What does the Sniffer eat?

What can I do in Minecraft PE 1.20.30.20 using Templates?

Where can I find Templates in MCPE 1.20.30.20?