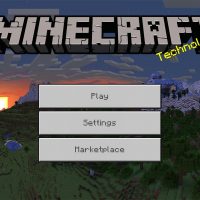 Minecraft PE 1.20.12
Trails & Tales Update (Release)
Download
Download Minecraft 1.20.12 for Android Free: learn about the new features that are already available in the block space, and also use a new type of wood in construction.
Minecraft 1.20.12 Trails & Tales Update
An exciting journey awaits every player who installs Minecraft PE 1.20.12. The developers are trying their best to make the gameplay stable and eliminate the errors that appear for this.
One of the most recent features to appear in the game is the crawling animation. It turns on automatically if the player does not get into a narrow passage. Please note that if you get into the water, the hero will start swimming, and vice versa.
Another entertaining opportunity was Unlocking recipes. Now this option is not Experimental and it can be controlled after the world is created.
Rosewood
Once in the Cherry Biome for the first time, players will notice how unusual the local nature looks. Instead of green leaves, the trees are covered with pink flowers. At the same time, their wood has the same color.
Such a unique texture will allow you to create plates and other objects in a completely new design. By the way, in Minecraft 1.20.12 this place is characterized by maximum tranquility. Only friendly mobs live in this area.
Ruins of the Trail
This relatively new Structure in Minecraft PE 1.20.12 attracts mainly those players who want to dig. And indeed, in these places, you can find a wide variety of objects from a Sniffer egg or a Template to ancient fragments.
Changing your reservation
After installing Minecraft 1.20.12, players will have a chance to change the external characteristics of all existing armor options in the cubic world. To do this, prepare a blacksmith's table and Templates. You will also need the original equipment.
It is worth noting that each of the Template options has a unique pattern, which will be displayed in the final version.
What items are needed to decorate the armor?

Where can players find Templates in Minecraft PE 1.20.12?

In structures all over the world.

In which biome in MCPE 1.20.12 do cherries grow?
download anchor
Minecraft 1.20.12 Download