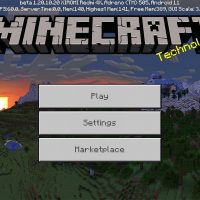 Minecraft PE 1.20.10.20
Trails & Tales Update (Beta)
Download
Download Minecraft 1.20.10.20 for Android Free: continue your adventures in an amazing and unusual space, and get to know its inhabitants.
Minecraft 1.20.10.20 Trails & Tales Update
A small update of Minecraft PE 1.20.10.20 was presented by the developers of Mojang Studios. This time they have refined some important points in touch control. Also, players do not need to interrupt the flight if there is no suitable place nearby to stand.
It is worth noting that any changes in the cubic world are primarily aimed at improving the quality of the gameplay. They make it even more interesting and diverse. And, of course, all users are looking forward to each of them.
Items
In the cube world, players use a wide variety of items every day. Some of them are so versatile that they can be used in different fields of activity. For example, a shovel or a pickaxe will be useful in the extraction of useful resources, in construction and even to defend against enemy attacks.
But in Archaeology, the heroes will have to use only one rather simple, but very important object for this lesson – a Brush. The fact is that in Minecraft 1.20.10.20, special artifacts are hidden in very fragile blocks.
They will easily break if any of the tools are applied to them and the player does not get an ancient artifact. Therefore, it is necessary to clean them with great care and feel like a real seeker of antiquities.
Journeys
In the process of exploring the surrounding space, players meet many different creatures. It can be pigs, sheep, or even zombies. Relatively recently, a new inhabitant, Sniffer, appeared in the game.
Travelers can recognize it by its red-green color. Following his movements in Minecraft PE 1.20.10.20, you can find unusual seeds. Plant them in the ground and take care of the plant. The uniqueness of the flowers that will grow in the future lies in the fact that they can be used to propagate Sniffers.
How to propagate a Sniffer in MCPE 1.20.10.20?

What subject is indispensable in Archaeology?

What abilities does the Sniffer have in Minecraft PE 1.20.10.20?

He can find the seeds of ancient plants.
download anchor
Minecraft 1.20.10.20 Download