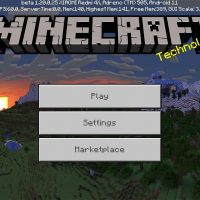 Minecraft PE 1.20.0.25
Trails & Tales Update (Beta)
Download
Download Minecraft 1.20.0.25 for Android Free: explore new ways to interact with Sniffer, and also get a chance to replenish your stocks of unique artifacts.
Minecraft 1.20.0.25 Trails & Tales Update
The developers of Mojang Studios released this update mainly to eliminate the accumulated errors. They were identified earlier and for the gameplay to remain stable, it was necessary to get rid of them.
In Minecraft PE 1.20.0.25, the shortcomings of the process of using custom textures were eliminated. It will also be useful for players to know that the inventory cursor is not tied to one place.
Mobs
Interest in the Sniffer continues to grow among users of the cubic world, largely because this creature has not only a very unusual appearance but also received unique skills from developers.
All its benefits for the player lie in the fact that he, without realizing it. Helps the hero to find unique seeds in the ground. In the future, they can be grown, creating very unusual landscapes on their territory.
Also in Minecraft 1.20.0.25, the possibility of reproduction of these creatures has appeared. This is done with the help of a special flower, it is called Torchflower.
Items
The number of items that users can use in the gameplay is constantly growing. The functions and scope of application are constantly increasing and this undoubtedly pleases all players.
To make your armor unusual and unique, in Minecraft PE 1.20.0.25 you will need to find special Templates. After that, simply combine them with equipment and any material such as gold or iron.
In addition, shields will help to complement the frightening image of the hero, which can now be perfectly decorated with any banners. After such improvements, each hero will feel even stronger and more confident in any battle, and will also be able to stand out from his opponents.
What are Templates used for in Minecraft PE 1.20.0.25?

How to propagate a Sniffer in MCPE 1.20.0.25?

Where can I find Templates?

In almost all structures.
download anchor
Minecraft 1.20.0.25 Download