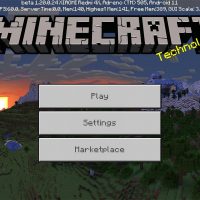 Minecraft PE 1.20.0.24
Trails & Tales Update (Beta)
Download
Download Minecraft PE 1.20.0.24 apk with a working Xbox Live: use new blocks to transmit signals, and also find out what new features have appeared in the cubic world.
Minecraft 1.20.0.24 Trails & Tales Update
With each Trails & Tales Update, there are more and more functions and features in the cubic world. Thanks to the efforts of the developers of Mojang Studios, the space surrounding the players is transformed in such a way that each of the users can find something interesting for themselves in it.
In Minecraft PE 1.20.0.24, the display of the greeting animation has been fixed, and the third-person camera now works correctly. Use the Amethyst block to pick up vibrations. To do this, install it under or above a Conventional or Calibrated acoustic sensor.
Archaeology
To try themselves in a new and very unusual business, it is enough for players to acquire just one item. Crafting a brush is quite simple and it does not need a lot of materials.
But at the same time, after receiving it, an amazing world of archaeological excavations opens up to the player. By the way, in Minecraft 1.20.0.24, the sounds that are played when using a Brush have been fixed.
Going in search of ancient artifacts, it is worth remembering that sometimes they will be quite easy to find, and sometimes you will have to work hard. They are always hidden in blocks of Suspicious sand and therefore they can be found in the desert or underwater.
New biome
To relax after a grueling search or to build a home for yourself in the most peaceful and beautiful place in Minecraft 1.20.0.24, you can in the Cherry Blossom biome. This place is imbued with tranquility.
Sheep and rabbits roam around, and the trees growing here are always covered with beautiful pink flowers. By the way, if you collect them, you can make a new kind of dye. Thus, you can spend time not only relaxing but also usefully replenishing your stocks.
Why can I use Torch flower in MCPE 1.20.0.24?

What are the functions of the Sniffer?

He's looking for seeds in the ground.

How does bone meal affect plants in Minecraft PE 1.20.0.24?
Download Minecraft PE 1.20.0.24