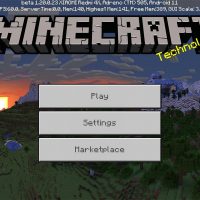 Minecraft PE 1.20.0.23
Download Minecraft Trails & Tales
Download
Download Minecraft PE 1.20.0.23 with a working Xbox Live: get pottery shards to craft new items, grow plants and use them!
Minecraft 1.20.0.23 Trails & Tales Update
The game gives unique opportunities to users, and the developers try to add something interesting every time. For example, in Minecraft PE 1.20.0.23, players can travel through ancient structures and search for unique items. Mobs are also changing, getting more and more functionality.
It is possible to change the appearance of the character using armor customization.
Mobs
In order for the Minecraft 1.20.0.23 player not to be bored looking for ancient treasures alone, the developers created a Sniffer. This is a cute mob that is safe for other creatures of the Tales and Trails. Its task is to find out about the location of the seeds. The nose of a unique animal allows it to feel objects at a distance.
Plants
Mojang developers are adding new plants to the game. For example, torchflower can be both a means for tempting Sniffer and an ingredient for a suspicious stew in Minecraft PE 1.20.0.23.
It is also worth looking for a pitcher crop that can become the basis for two dyes.
Shields and armor
In Minecraft 1.20.0.23, users can make themselves a unique shield. If the player connects it with a banner, then an unusual item will turn out. Customization of armor is already more complicated. To begin with, the player needs to look for templates, of which there are several types. Such items are easiest to find in Trail Ruins.
Items
The main tools of an archaeologist in Minecraft PE 1.20.0.23 are brushes. With them, users can clean suspicious blocks of sand. Also, in some biomes, users may see suspicious gravel. It is cleaned in the same way. Pottery shards are most often found inside. Such items will become the basis for crafting a decorative pot.
By the way, players can create items from cherry wood.
How to grow Sniffer?

Is it ppossible to tempt Sniffer?

Yes, torchflower seeds can be used for it.

How to craft decorative pots?

Four shards should be used for crafting one pot.
download anchor
Download Minecraft PE 1.20.0.23