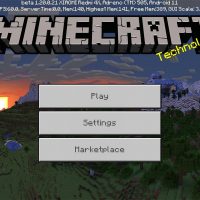 Minecraft PE 1.20.0.21
Trails & Tales Update (Beta)
Download
Download Minecraft PE 1.20.0.21 with a working Xbox Live: evaluate the new features in the decoration of shields and learn how to properly breed a Sniffer and what can come of it.
Minecraft 1.20.0.21 Trails & Tales Update
A very interesting and diverse update has been prepared by the developers of Mojang Studios for users. Indeed, a lot of unusual content has appeared in this version, which is available for use right now.
It is worth noting that in Minecraft PE 1.20.0.21, the Sniffer and Torchflower were fully introduced into the gameplay and it is not necessary to include an Experimental game mode for their appearance. It will also be useful for players to know that all mobs now sit in Bamboo rafts in the correct mode.
 Sniffer
A character already loved by many, Minecraft 1.20.0.21 has received new features. Now, when two individuals interact, an egg appears. It will hatch a baby on moss blocks in ten seconds, and the rest will take twice as long.
Now the Sniffer can find the seeds of another Pitcher plant. It has five stages of growth and it is possible to harvest from it. Follow the animals to find as many different seeds as possible.
Torchflower
This is the first of the new plants that appeared with Sniffer. Thanks to this mob, players got the opportunity to grow Torchflower. It can be used to attract bees, as well as to breed parrots and chickens.
Also, the seeds of this flower in Minecraft PE 1.20.0.21 can be used in a composter.
Hanging Signs
In Minecraft 1.20.0.21, the developers made several important fixes for these items, for example, they reduced the maximum number of letters, but the font was increased.
Also now Hanging Signs can be installed on more blocks. Bamboo variants, as well as Distorted and Crimson ones, have now received unique sounds and the interface of the reverse side has changed for all items.
Which plant appeared in Minecraft PE 1.20.0.21?

How do Sniffers reproduce in MCPE 1.20.0.21?

How long will it take for the Sniffer cub to hatch?

On moss blocks 10 seconds.
download anchor
Download Minecraft PE 1.20.0.21