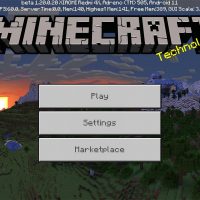 Minecraft PE 1.20.0.20
Download Minecraft Trails & Tales
Download
Download Minecraft PE 1.20.0.20 with a working Xbox Live: visit the cherry blossom location, delight in its incredible charm, collect petals to make dye, and customise your shields.
Minecraft 1.20.0.20 Trails & Tales Update
For the game to be as exciting and diverse as possible, the developers of Mojang Studios are doing extensive work on correcting errors. But it is not always possible to fix them in full, so some functions are not yet available.
For example, in Minecraft PE 1.20.0.20, it is impossible to equip a Rack with armor during flight, but the ability to interact with it has been returned to players again. It is also possible that Trails & Tales Update will once again have the capability to search in the Creative Inventory using the keyboard.
The grove is in bloom
Exploring the block space is a fascinating process, especially thanks to the emergence of new and unusual biomes. In Minecraft 1.20.0.20, you need to get to Cherry Grove.
In this amazing location, ever-blooming trees grow and cute little animals live. By the way, the surface in this place consists of petals, collect them to make a new kind of dye.
Armor Processing
To start the process of decorating your armor, you must first find Templates. They can be found in various structures throughout the block space. These items will need to be placed together with equipment and material in the Smithing Table.
After that, beautiful and unique patterns will appear on the helmet, breastplate, and other elements. It is worth noting that such a feature in Minecraft 1.20.0.20 will not affect the technical and protective characteristics of your protective ammunition in any way.
New blocks
In Minecraft PE 1.20.0.20, very unusual blocks have appeared, these are Suspicious sand and gravel. They are notable because fragments of various ancient objects are hidden in them. Players can only get these artifacts by carefully cleaning them with a brush.
Customization of shields
What can petals be used for in Minecraft PE 1.20.0.20?

What is necessary to create a drawing on armor in MCPE 1.20.0.20?

How can fragments be extracted from Suspicious Sand?
download anchor
Download Minecraft PE 1.20.0.20