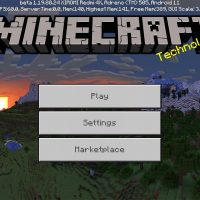 Minecraft PE 1.19.80.24
Trails & Tales Update (Beta)
Download
Download Minecraft PE 1.19.80.24 with a working Xbox Live: find ancient clay fragments and meet a new inhabitant of the cubic world.
Minecraft 1.19.80.24 Trails & Tales Update
This time, the developers of Mojang Studios decided to release a new version of Minecraft PE 1.19.80.24 to fix some gameplay errors. They are connected with a variety of processes in the cubic world.
For example, the correct volume was set for the sounds made by the Gast. Also fixed a problem that occurred in earlier versions with wool and its color change. But it has not yet been possible to eliminate the problem of putting armor on the rack. This is expected in future updates, and players are also looking forward to the release of the announced Trails & Tales.
Clay artifacts
To make the exploration of the cubic world even more interesting, the developers fill it with various interesting and very unique items. But the boundless space is fraught with many more unusual things.
In Minecraft 1.19.80.24, you should, first of all, do Archaeology, this fascinating process is fully accessible to all players. Go to the desert or explore underwater space in search of an unusual kind of sand. It has a name suspicious and is incredibly fragile.
In no case do not try to destroy it with a pick or shovel, it will collapse, and the player will not get anything. Use a brush to gently remove the excess and get to the ancient clay fragments.
New Mob in Minecraft PE
Right now, a new and long-awaited mob has already appeared in Minecraft PE 1.19.80.24. The sniffer has an excellent nose and uses it to find food for itself.
This ancient beast feeds exclusively on plant seeds. If the player manages to collect several copies after him, then he can even try to grow a beautiful flower out of them. The creature lives in warm biomes, where he can find food.
Currently, it cannot be tamed in any way, perhaps it will be available in future updates.
How to breed a Sniffer in Minecraft PE 1.19.80.24?

The player will need a Torch flower.

What items are used in Archaeology in MCPE 1.19.80.24?

What biomes does the Sniffer inhabit?
Download Minecraft PE 1.19.80.24